Mandatory Residential Organics Recycling
Mandatory Residential Organics Recycling
Recycling Organic Waste
The City of Citrus Heights is currently developing its residential organics recycling program to be in compliance with the new statewide organics recycling mandate (SB 1383). Information on food waste for businesses and commercial compliance can be found here.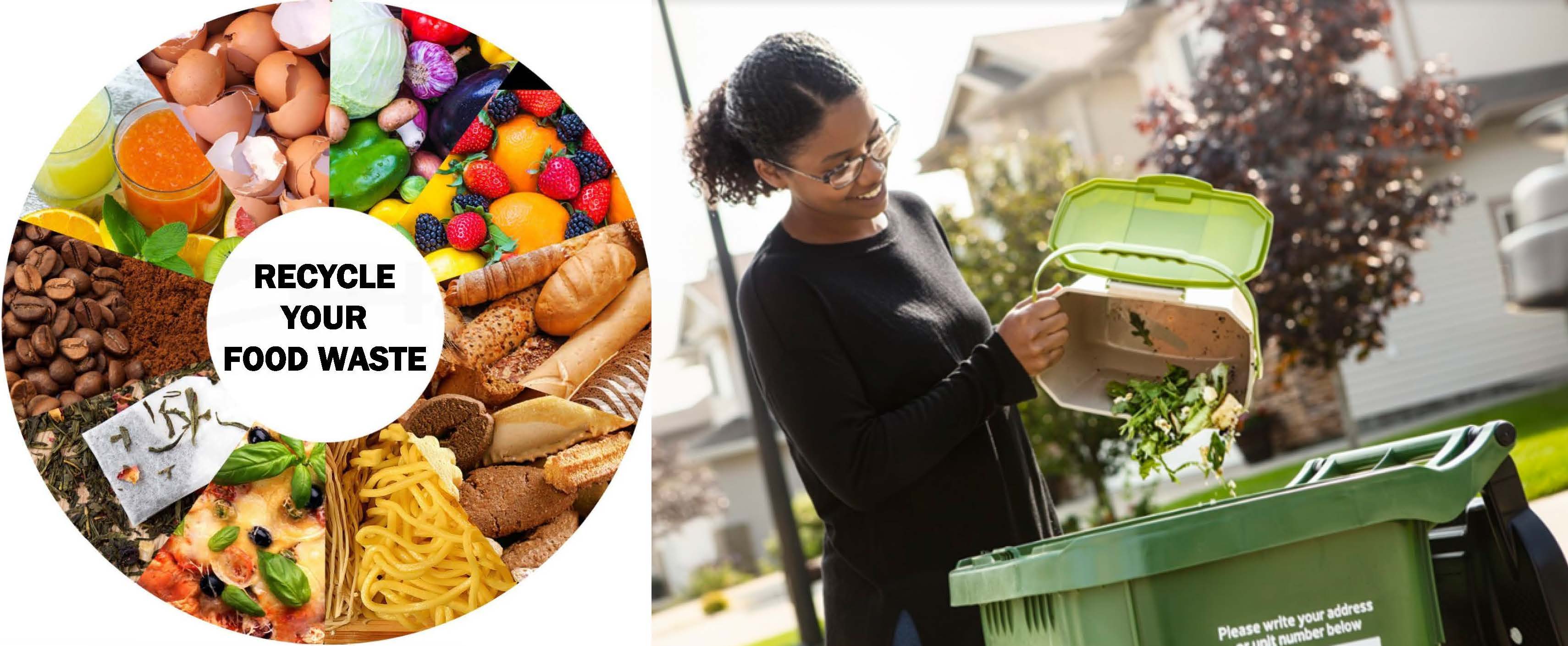 What is SB 1383?
In September 2016, Governor Brown signed into law SB 1383, establishing methane emissions reduction targets in a statewide effort to reduce emissions of short-lived climate pollutants (SLCP) in various sectors of California's economy. SB 1383 establishes targets to achieve a 50 percent reduction in the level of the statewide disposal of organic waste from the 2014 level by 2020 and a 75 percent reduction by 2025.
Methane emissions resulting from the decomposition of organic waste in landfills are a significant source of greenhouse gas (GHG) emissions contributing to global climate change. Food waste alone accounts for approximately 17-18 percent of total landfill disposal. Increasing food waste prevention, encouraging edible food rescue, and expanding the composting and diversion of organic waste throughout the state will help reduce methane emissions from California's landfills.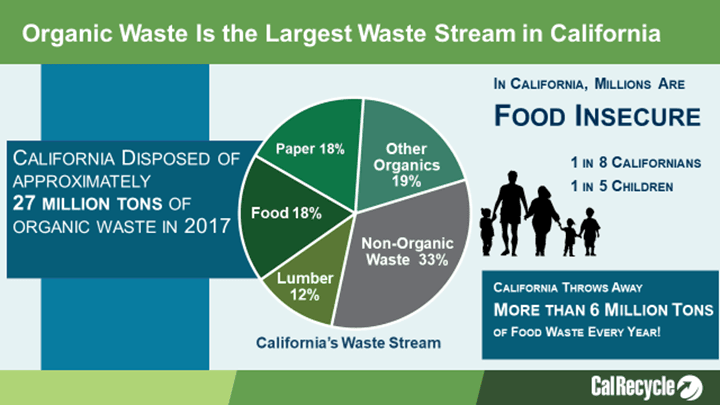 Statewide Timeline
July 1, 2020 - CalRecycle begins analyzing the progress that the waste sector, state governments, and local governments have made in regards to achieving organic waste reduction targets for 2020 and 2025. Upon conclusion of this analysis, CalRecycle may include incentives or additional requirements in the regulations to facilitate progress toward achieving the organic disposal reduction targets.
July 1, 2021 - Businesses in Sacramento must meet state mandates for diverting recyclables and organic material.
January 1, 2022 - CalRecycle's regulations to meet the organic waste reduction targets for 2020 and 2025 take effect and are enforceable on this date.
January 1, 2024 - CalRecycle may require local jurisdictions to impose penalties for non-compliance on regulated entities subject to their authority.
January 1, 2025 - By this date, the state must achieve a 75% reduction in the level of statewide disposal of organic waste from the 2014 level. In addition, not less than 20 percent of currently disposed edible food must be recovered for human consumption.
Who is Affected?
The new organic waste law affects all Californians, including single- and multi-family homes, commercial entities, and schools. The City of Citrus Heights will launch its organics recycling program for residents in summer 2022. If you would like more information, you can watch this short video or visit this website.
Methods for Prevention
In addition to curbside collection of organic waste, we can all make a difference - such as preventing excess food waste or taking steps to keep food waste and other organic materials out of our landfills. Find tips for more purposeful shopping, cooking, and food storage techniques here. Composting at home is also a great option.
Senate Bill 1383 is a statewide organic waste recycling mandate which was passed in 2016 and is intended to divert short-lived climate pollutants from landfills, reducing organic waste, food waste, and greenhouse gas emissions. You can view the legislation text here.

How will this law help the environment?

Landfill gas created by decomposing organic waste is a significant source of overall greenhouse gas emissions. This law helps California achieve its aggressive recycling and greenhouse gas emission goals and address climate change by reducing materials in the landfill which produce gas.

How much landfill waste will this law reduce?

Despite the state's robust and traditional recycling infrastructure, organic materials (yard trimmings, food scraps and soiled paper) make up about half of the State's waste stream, and food waste is the largest single waste stream in California. Redirecting these resources to composting and digesting operations will save landfill space, generate energy, reduce emissions, and restore soils.

Who must comply with the new law?

The law affects all California residents, including those in single- and multi-family homes, commercial entities, and schools. The City of Citrus Heights is planning to launch its organics recycling program for residents in summer 2022. Education and outreach will be provided to Citrus Heights residents before the anticipated launch.

Organic waste is the food, food scraps, food-soiled paper AND yard waste that will be collected and recycled.

What is the difference between "organic food" vs "organic waste"?

Organic food often refers to food that is grown without the use of herbicides, pesticides, and fertilizers, or bioengineered genes (GMOs). Organic waste is the food, food scraps, food-soiled paper AND yard waste that will be collected and recycled.

What is the difference between "food waste" vs "compost"?

Food waste is the food, food scraps and food-soiled paper intended to be disposed of. We can recycle that material to create fuel, energy and compost. Compost is organic material that can be added to soil to help plants grow. "Backyard Composting" is the process of creating compost by placing materials in open piles outside, mixing them and allow the process to turn organic waste into compost material.




Residents will dispose of all organic waste in their green waste bin, which is currently only used for yard waste, instead of the garbage bin. Organic waste refers to food waste (including vegetable and fruit scraps, eggshells, meat, dairy, bones, and rotting food), food-soiled paper, (including pizza boxes, coffee filters, and paper napkins) and yard trimmings. Residents who do not currently have a green yard waste cart will be provided a new cart for their organic waste service.

Will the Green Waste collection service become weekly once the food waste program goes into effect?

Yes, starting in July 2022, Green Waste service will be renamed "Organic Waste" service and will include green waste, food waste, and food soil paper products. Organic Waste carts will be serviced weekly on the same day as trash service.

Will there be any other changes to collection days?

There will be an A week and B week blue Recycling cart collection schedule for the city. There will only be a small percentage of residents who will be receiving a day change for their collection. Check the online calendar tool to see which week your blue Recycling cart is serviced. Direct outreach will also be delivered to those affected by the change.

Where should I store food waste until I bring it out to my green Organic Waste cart?

Food waste should be put directly into Organics Waste carts when able. Food can be stored in kitchen pails and paper bags until brought out to Organic Waste cart. Best practice tip: Freeze food waste to prevent smell and bacteria in the kitchen.

Will residents be able to put food waste in paper bags to secure food waste and lessen the amount of food waste that may stick to the insides of their green Organic Waste carts?

Yes, when the organics collection starts in July 2022, paper bags may be used to contain food waste inside the green Organic Waste carts.

What happens if a resident has more than one Green Waste cart now?

As of July 1, 2022 there will be weekly service for green Organic Waste carts (formerly known as Green Waste carts). This weekly collection service means most residents will no longer need an extra green cart. In addition, from November through January, residents can place up to 6 bags of leaves out (35 lbs limit) on collection day for free.

Starting July 4th, if you choose to keep two or more green carts you will be charged a $14/month fee for the second cart and any thereafter. If you intend to reduce your number and/or size of carts for weekly collection, you must contact Republic Services Customer Service at 916-725-9060.

What if you don't have an Organic Waste cart?

If you are in an HOA, your residential organization leadership should reach out to Republic Services to remedy. All single-family homes will be charged for this service whether the use their Organics Cart or not.




Although the law takes effect for residential sectors in January 2022, organics recycling services is scheduled to begin for Citrus Heights residential customers in July 2022. Commercial entities and businesses were required to begin their mandatory organic recycling services starting July 1, 2021, or sooner depending on the amount of organic material generated.

Can I start using my yard waste bin to dispose of my food waste now?

Although we are very happy to see residents getting excited about upcoming residential organics recycling, residents cannot currently use their green yard waste cart for food waste. Waste processing facilities have different processing requirements for only green waste versus green waste mixed with organics. At this time, residents should continue placing only green waste in their yard waste cart until notified otherwise.

This is a statewide mandate and there are no exemption waivers granted for individual residents. Business owners seeking a commercial exemption can apply here.

Will there be an exemption for residents who are currently do not have a green waste cart?

Residents who do not have a green waste cart will not be exempt from SB 1383, as all residents will be required to subscribe to organics collection service in order to comply with the law.

What if I have no space for a new or larger cart?

All residents must have an organic waste bin to comply with the law. Multi-family residences (such as apartment complexes) will be provided with bins for their properties. The City and Republic Services will assess space concerns on a case-by-case basis to ensure all properties are in compliance with state regulations.

What if I already compost all my food waste/generate no food waste?

Under SB 1383, we are unfortunately not able to offer exemptions to customers who compost their food waste or who generate minimal food waste. However, Republic Services will provide free kitchen compost pails to customers before the launch of the new organics collection services, along with compost seminars and providing information about composting.

Can I self-haul my food waste?

We do not currently offer the option to self-haul food waste. Residents must be provided with organic waste collection service to comply with SB 1383.
View All >
Republic Services - Information and Resources
Page last updated January 31, 2022.