Neighborhood Cleanup
Last Content Update:
Republic Services provides Citrus Heights residents with Neighborhood Cleanup service 3 times per year. This service helps with the disposal of bulky trash like old furniture, household appliances, electrical items, and tree branches.
Collection Schedule
Want to know when your bulky trash pick-up day is? The map below shows the collection schedule. Republic Services notifies residents of their exact pick-up date with a door hanger one week before pick-up day. Residents can also call Republic Services at 916-725-9060 for more information. Please remember to set out material for collection no more than 2 days before your scheduled pick-up day. This will help minimize illegal dumping and unwanted scavenging.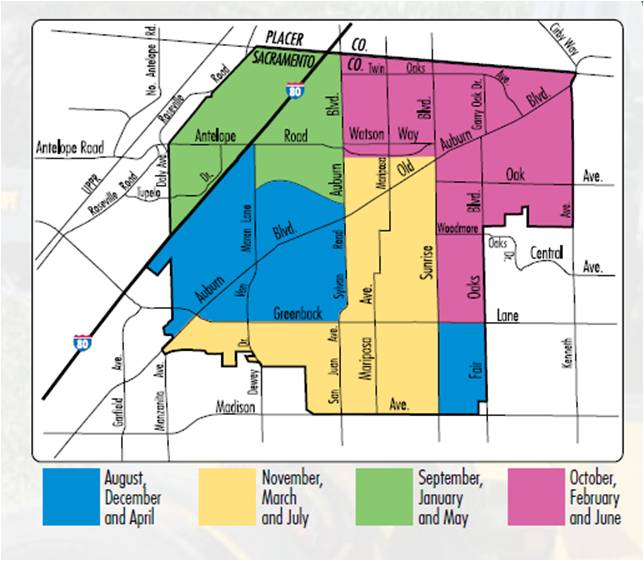 Program Guidelines
All materials must be set out for collection by 6 a.m. on the scheduled collection date.
Loose material must be placed in disposable containers like cardboard boxes and large plastic bags for loose leaves.
Only put acceptable material out for collection (see list of Acceptable Materials below)
Property owners and/or residents may incur penalty fees for violations, such as oversized piles, disposing of unacceptable materials, or putting material at the curb too early or too late for collection.
Pile size can be up to 10 cubic yards per pick-up (10' x 7' x 4').
Acceptable Materials
Appliances (refrigerators, stoves, washers, dryers, air conditioners) - must be placed away from the pile for separate collection.
Barbecues
Branches (must not exceed 6 feet in length and 4 inches in diameter)
Carpeting
Computers, monitors, electronics, and televisions - must be placed away from piles for separate e-waste collection.
Furniture (chairs, sofas, dining tables)
Mattresses
PVC / plastic pipes (no steel pipe)
Tires - (limit 4) must be placed away from the pile for separate collection.
Toys
Wood, not to exceed 6 feet in length and 4 inches in width. Fencing must be disassembled. (Treated wood requires special handling and is not collected as part of the Neighborhood Clean-Up Program.)
Unacceptable Materials
Automobiles or auto parts, including camper shells.
Backyard spas
Boats or boat parts
Bullets/shells/explosives
Commercial or contractor waste
Construction materials (concrete, dirt, rocks, bricks, sheetrock, roofing material, etc.)
Treated Wood
Foul materials of any sort
Household hazardous waste (paint, pesticides, oil, cleaning products, batteries, etc.)
Household waste
Liquid waste
Medical waste
Universal waste (such as fluorescent light bulbs or products with mercury)
Placement
Materials must be set out at the curb (not in the gutter) and must not obstruct sidewalks or roadways. Materials may not be placed:
At least 6 feet from vehicles
At least 6 feet from garbage/recycling/organics cart
Piles cannot be collected from private property.
Piles cannot be against fences or walls.
Piles cannot block sidewalks or streets.
Helpful Hints
Have all of the materials you plan to discard ready to move to the curb.
Bundle up tree branches.
Remove all appliance doors for safety.
Page last updated November 16, 2021.