Community Block Party Trailer
Community Block Party Trailer
The Citrus Heights Community Block Party Trailer is now available for reservations!
Block parties are a great way to meet your neighbors, and the City of Citrus Heights wants to help neighbors connect. The new Community Block Party Trailer offered through the city's Community Engagement Department is now available to reserve for neighborhood events. The trailer comes with everything residents need to host a gathering, including tables, chairs, a sound system, coolers, trash receptacles, lawn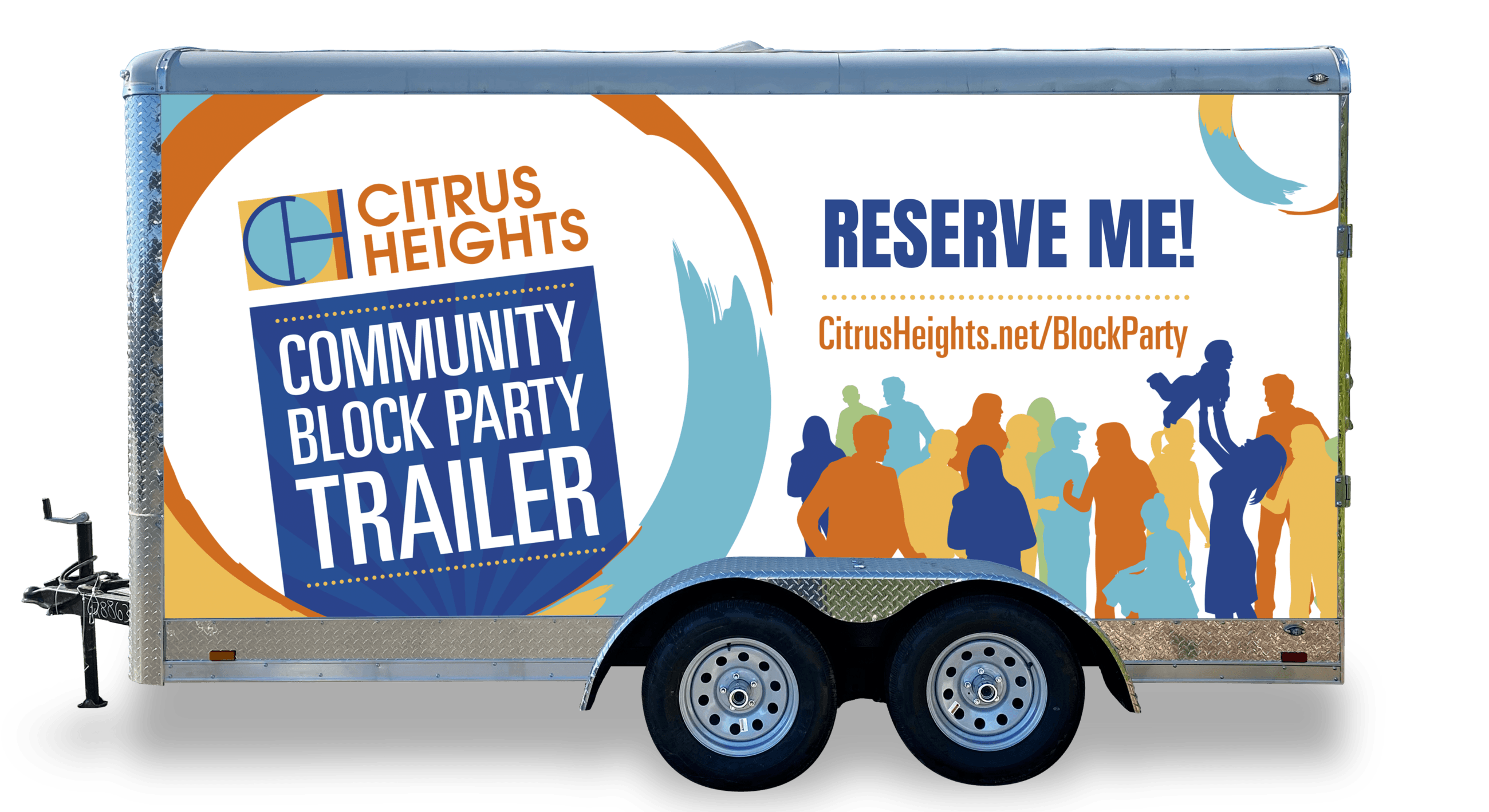 games, and more. The Community Block Party Trailer is available for reservation on a first-come, first-serve basis. Once a reservation is confirmed and coordinated, the city drops it off and picks it up!
Program Overview
The City of Citrus Heights is thrilled to provide this Block Party Trailer as a resource to residents, neighborhood associations, and community organizations. We aim to encourage neighbors to come together, engage with each other, and help create a welcoming and safe place for everyone. The Economic Development and Community Engagement Department designed the Block Party Trailer to support neighborhoods, build relationships, and create community connections, one block at a time!
What is Included?
The Block Party Trailer comes stocked with all the essentials to host a neighborhood block party:
Tables
Chairs
Water Jug
Drink Tubs
Coolers
Barricades and cones
Lawn games
Small sound system
Trash receptacles
Rental Guidelines
Eligibility – Must be a Citrus Heights:
Resident
Neighborhood Association
Homeowner's Associations (HOA)
Neighborhood Watch Group
Community organization
Reservations must be for neighborhood and group events; private celebrations are NOT eligible
Reservation Date
An application request DOES NOT guarantee reservation of the block party trailer! City staff will confirm all reservations via e-mail once all documentation is received (application and waiver, applicable permits, insurance, and deposit) at least 30 days before the scheduled event date.
Submitting Your Application
There are three ways to submit the application:
E-mail: BPTrailer@citrusheights.net
Mail: City of Citrus Heights 6360 Fountain Square Drive, Citrus Heights, CA 95621 Attn: Courtney Riddle, Management Analyst II
Drop off at Citrus Heights City Hall reception.
Trailer Deposit
A $500 refundable deposit is required to reserve the block party trailer. If the block party trailer is returned with no damage, the deposit will be returned to the neighborhood/organization that reserved the trailer.
Citrus Heights Block Party Trailer in the News!
Citrus Heights Community Block Party Trailer
Program Information
Reservation Documents