Financial Reporting, Budget & CIP
Financial Reporting
The city's Comprehensive Annual Financial Report (CAFR) is presented below. This report presents the financial position and result of operations of the various funds of the City for the prior fiscal year. This report is intended to provide relevant financial information to the citizens of Citrus Heights, city staff, creditors, investors and other concerned readers. The City's submitted CAFR has been awarded the Certificate of Achievement for Excellence in Financial Reporting from the Government Finance Officers Association (GFOA) for 15 consecutive years.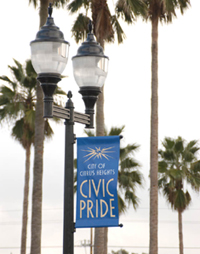 Most Recent Report
View the Comprehensive Annual Financial Report for the Fiscal Year Ended June 30, 2018 (PDF). The City believes the data presented in this report is accurate in all material respects, and all statements and disclosures necessary for the reader to obtain a thorough understanding of the city's financial activities have been included. We encourage all readers to contact the Finance Division with any questions or comments concerning this report.
Budget
The City's adopted two year budget for FY 2019-20 & 2020-21 is presented below. This document reflects operating revenues and expenditures that are expected to be incurred over the next two fiscal years. It also includes accomplishments from FY 2018-19, key projects anticipated for the next two years, and a profile of the Citrus Heights community.
View the FY 2019-20 & 2020-21 Adopted Budget (PDF)

Capital Improvement Program
The Capital Improvement Program (CIP) provides the basic details for any proposed capital improvement that the city desires to undertake in the next 5 years. The CIP is used as a supplement to the city's annual budget and identifies potential funding sources and expenditures for capital projects. View the Capital Improvement Program (CIP), where you will be directed to the General Services webpage and the link to the most current CIP document.
Questions & Feedback
Citrus Heights residents are encouraged to participate in the budget planning process by attending budget work sessions and public hearings. Citizens also have the opportunity to address issues at any City Council meeting during the year. Council meetings are generally held on the 2nd and 4th Thursday of each month at 7 p.m. in the Council Chambers that are located at 6360 Fountain Square Drive.