Business Watch
Purpose
Business Watch functions much like a Neighborhood Watch group. It is a watch group specifically designed with the business community in mind. The purpose of Business Watch is to create a safe and profitable retail environment by reducing crime as well as the fear of crime for business owners, patrons, and employees. Business Watch can assist with taking systematic steps to reduce opportunities for crimes in and around business locations. It also includes training business personnel to be eyes and ears for the police.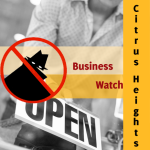 How We Achieve
The goals of Business Watch are achieved by:
Collaboration: Helping businesses share information regarding crime trends and general public safety issues within the retail community. Utilizing a social networking model, information can be shared among involved businesses regarding crime trends and problem solving via the Citrus Heights Police Department interactive website.
Police Department Liaison: CHPD POP Officers act as police department contacts to the business community. They are available to provide guidance and training for businesses who would like to be more proactive in the areas of loss prevention and business security.
Crime Prevention: Working within the model of collaboration, members will work with the police to create and implement innovative crime reduction and prevention strategies. The end goal is to redeem business profit that is lost as a result of theft and criminal activity.
Online Forum
Designed with busy managers, professionals and owners in mind, Business Watch is primarily a web based community with no monthly meeting commitment. Networking, crime prevention and exchanging information about crime trends are all accomplished through our online Business Watch forum. Members have access to the website which includes the ability to message other members, post messages on our wall, and download flyers on specific types of crime prevention. A Citrus Heights police officer monitors the website for questions and content.
Benefits
Signing up for Business Watch provides several benefits including:
Officers who are designated contacts between the business community and Citrus Heights Police Department.
Networking opportunities with local businesses.
Training available regarding check and ID forgery.
Access to Crime Prevention Connection newsletter.
Online public forum access where members can network and communicate via the internet.
Information on crime trends that may affect the business community.
Members are free to market their membership in the program in customer advertisements etc.
A CPTED (Crime Prevention Through Environmental Design) survey of the business by request. Lighting, display placement, visibility and security systems are all evaluated with recommendations provided by a police officer to help enhance the security of your business.
Cost
There is no cost to businesses who want to be a part of Business Watch. Our expectation is for members to be an active part of the Business Watch community.
Contact
For more information on starting or joining a Business Watch, please contact us via email.