Resilience and Recovery in Citrus Heights | Join the Conversation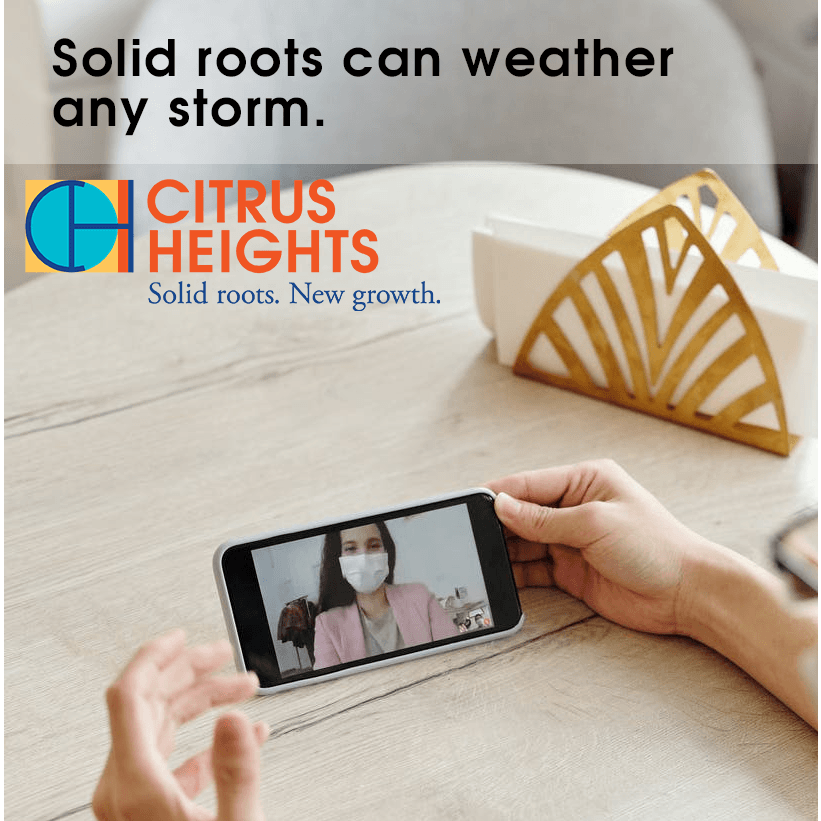 The health and safety of our residents is our top priority — the City is committed to keeping you and your family safe. We know that solid roots can weather any storm.

Now more than ever, residents are relying on our local 911 emergency preparedness, public health and safety, and local business support services that are so critical to maintain in these uncertain times.

Our City team is working hard to ensure Citrus Heights continues to be prepared for any medical, economical or catastrophic emergency. For more information related to COVID-19, please visit CitrusHeights.net/covid-19.

Thank you to the thousands of community members who completed Priority Feedback Forms. By sharing with us your priorities, you have helped us as we plan for the City's road to recovery.
Click here to view the third-party public opinion research from EMC Research.
Frequently Asked Questions
Q: Where can I access information about COVID-19 and what I can do to keep my family safe?
A: We are working hard to keep our community healthy and safe, and coordinating closely with county, state and federal officials. Please visit CitrusHeights.net/covid-19 for updates on the City's response, resources, and information on what you can do to help.


Q: Were we prepared for this State of Emergency?
A: As much as any of us are able to be, yes. Now more than ever, residents are relying on local services such as 911 emergency preparedness, public health and safety, and local business support critical to maintaining our community character and quality of life in these uncertain times. We are working hard to ensure our community is prepared for any ongoing or future medical, economical or catastrophic emergency.
Q: Does the City have capacity to address emergency preparedness or health crises in the future?
A: Yes — if we plan for this in the future. Resident safety is always a top priority for Citrus Heights. In these trying times, we need to continue keeping our community healthy and safe, and must ensure adequate emergency preparedness and 911 communications systems to ensure we are "disaster" ready. This crisis only reinforces the need for us to work together to ensure we have the tools and equipment to protect our City and save lives, now and in any future emergency.
Q: What other current City needs may impact Emergency Preparedness and Recovery efforts?
A: While we continue to focus on protecting the health and safety of residents by addressing immediate COVID-19 response needs, looking forward we need to ensure public safety and emergency preparedness is maintained and that residents and businesses are supported in the economic fallout.
Q: What about the needs of families or residents who are homeless?
A: While we were making significant progress in addressing homelessness —the economic fallout from the pandemic means we are potentially entering new challenges. The City must continue successful programs connecting residents who need help with mental health and substance abuse support, job training, and emergency or temporary housing, which also ensures health and safety for everyone.
Q: Will the State help address public safety, health and recovery needs?
A: Citrus Heights has a long history of being self-reliant. While we appreciate the work the State is doing to address the health and financial impacts of the current crisis, our City must also continue to be steady and effective in addressing our own unique local needs, especially in these uncertain times.
Over the years, the State has consistently shifted responsibility for many programs to cities like ours without the funding to provide our local residents the services they expect and deserve, threatening Citrus Heights' long-term financial stability. Unfortunately, we cannot depend on state or federal funding to address the significant health, safety or economic recovery needs moving forward — we must do what we can locally, ourselves.
Q: Has the community had an opportunity to weigh-in on these priorities?
A: Yes. In recent community outreach and conversation over the past several months, the public has provided feedback on what our priorities should be. Thank you to all the community members (over 1,000 of them!) who have provided feedback to date. Community priorities we have heard so far include:
Preparing for any medical or catastrophic emergency
Keeping local government transparent, accountable and nimble
Maintaining 911 emergency preparedness and disaster readiness
Continuing to reduce homelessness/support families in transition
Fixing potholes and repairing streets to improve safety for drivers, including local first responders
Supporting residents and local businesses through our local recovery
Q: How will my feedback be utilized by the City?
A: In addition to current COVID-19 needs, your community input will help the City plan with the public's input in mind, as we look to the future effects of the current crisis.
Please send any questions to chpriorities@citrusheights.net. Thank you for your input!