Citrus Heights Community Center
Citrus Heights Community Center- 6300 Fountain Square Drive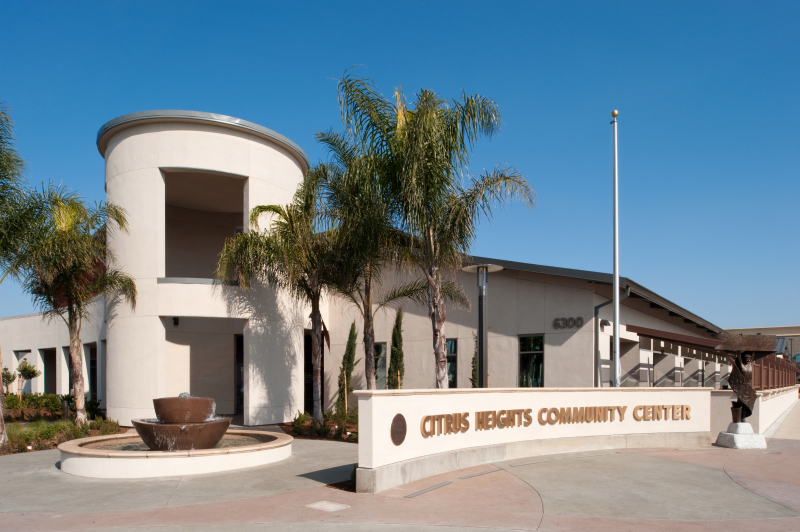 The City of Citrus Heights is pleased to welcome you to our exciting 29,173 square foot Community Center located at 6300 Fountain Square Drive, across from the Citrus Heights Police Department and south of City Hall. The facility provides an inviting atmosphere for a wide range of community activities and is available to rent for private parties, weddings, birthdays, dances, banquets, business events, fundraisers, memorials, meetings, and many other functions. Contact our team to book your event!
Please click the buttons below, or scroll down, to learn more about the Community Center!
Audio Visual System
The AV systems in the Citrus Heights Community Center have been completely replaced with user-friendly state of the art:
HDMI / Blue Ray Dolby Sound systems;
New LED projectors in all rooms;
16:9 HDMI picture ratio.
All facility rooms are stand alone or operate in a combined capacity to maximize use and options. The Community Hall and South Rooms have their own speaker(s), screen(s), wireless, lapel and corded microphones. The additional flex rooms have sound, screen and wired microphone capabilities.
The South Flex rooms have the ability to hold Zoom Meetings, broadcast the meeting, and record the meeting for later possible training purposes as well as pull up YouTube and other online hosts for use. A recording can be made, edited and saved to a thumb drive or attached to a link to send to multiple end users.
All equipment is Ektron, Vaddio, Shure, Symetrix, Eki, Barco and Listen Technologies utilizing Bose Acoustic Commercial Speakers.
An internal downloadable app is available for additional hearing capabilities and the buildings 5G wireless system is designed to meet the users' demands when required for presentations, lectures and trainings.
Senior Center
The Citrus Heights Senior Center provides a safe, friendly, and welcoming environment for seniors to participate in activities and enjoy fellowship. The Senior Center is a semi-self contained area for social gatherings and is a portion of the main building with its own indoor and outdoor fireplace and trellised patio area. View the Senior Center Code of Conduct Policy (PDF).

Contact our team to book the Senior Center and click here to jump to a 3D virtual tour of the Senior Center!

Catering
The Citrus Heights Community Center offers a first-class commercial catering kitchen, as well as patio and barbecue areas. All events which involve a kitchen rental at the Community Center are assessed a catering fee. If you select one of our preferred caterers, the catering fee will not apply. Each of the preferred caterers was selected based on their outstanding qualifications and experience in the catering field. We are confident that our preferred caterers will provide excellent service and help make your event a success.
Please contact Community Center staff for a current Preferred Caterer List. We would like to encourage you to contact each of the preferred caterers and get an idea of their menu choices and services that are available. Please let them know that you are using the Citrus Heights Community Center for your event.
If you decide to choose a caterer that is not on our preferred catering list the fees are as follows:
Additional security deposit - $350
Basic catering fee - $404
All non-preferred caterers are required to submit insurance.
Event Cleaning Services
The Citrus Heights Community Center offers clients a fee option for cleaning services throughout the event and the conclusion of the event. These services include:
general removal of trash in the trash receptacles;
removal of any items left behind (once client has vacated the premises); and
kitchen cleanup (once all clients items are removed from the premises). Cleaning Fees are outlined as follows (fees are based on "per day"):
100 people or less (0-100ppl): $200.00
101-300 people or less (101-300ppl): $300.00
301-500 people or less (301-500ppl): $400.00
501+ people or less (501+ppl): $600.00
About the Community Center Rooms
The Community Center is home to:
The Community Hall: 11,000 square feet
North Flex Room: 1,050 square feet
East Flex Room: 1,400 square feet
Senior Center: 1,200 square feet
South Flex Room: 2,700 square feet
Commercial Catering Kitchen (can accommodate 2 separate events simultaneously)
The Community Hall can be separated into three different sections (A,B,C) or rented in full to accommodate large events. Banquet seating in the Community Hall can range from 150 to 700, depending on available resources. Click here to view a virtual tour of the Community Hall.


The North Flex Room, also sometimes referred to as "the flower room," can be divided into two spaces, and is ideal for classroom or theater style events, ranging form 10 to 50 seats. Click here to view a virtual tour of the North Flex Room.


The East Flex Room can be separated into four different spaces, and offers access to a private patio and barbecues. This space accommodates classroom and theater style seating for groups of 16 to 100, depending on the room configuration. Click here to view a virtual tour of the East Flex Room.


The Senior Center also includes access to a private patio. This rental space includes 12 card tables, which can seat up to 48 people. Click here to view a virtual tour of the Senior Center. Please note that audiovisual capabilities are not available in the Senior Center.


The South Flex Room, located to the right as you enter the main entrance, can be divided into three separate rooms. This space has access to a private patio and can accommodate banquet, classroom, or theater style seating. The room can host 18 to 100 guests, depending on layout. Click here to view a virtual tour of the South Flex Room.


The Commercial Catering Kitchen at the Citrus Heights Community Center can be divided into two rentable sections for smaller events, or guests may opt for full kitchen use. The fully-equipped kitchen features an ice maker, refrigerators, freezers, stove tops, ovens, warming ovens, and more. Click here to watch a quick kitchen walk through video.


All Flex Rooms include access to the following amenities:
Complimentary Wi-Fi
Complete set up of the Community Centers' tables and chairs. Layout must be approved and on-file 2-weeks prior.
Small sink and mini fridge
Audiovisual capabilities - microphone, screen, and projector (additional fees apply)

For more information about the rooms available at the Citrus heights Community Center, including pricing, click here.
Check out our Virtual Tour!
South Room A

South A/B/C

Community Hall B

Community Hall C

Optional Rental Item- Bar

Community Hall ABC

Optional Rental Item- Stage

North AB

East Room ABCD

East Room ABCD

Kitchen B

Senior Center Patio

South Patio

Citrus Heights Community Center