Shopping Cart Ordinance Adopted
Shopping Cart Ordinance Adopted
Like other communities, Citrus Heights has experienced increased levels of visible blight. These challenges are neither unique to Citrus Heights, nor are they short term and are unlikely to self-resolve as we come out of the COVID-19 pandemic. Additionally, these challenges adversely affect Citrus Heights businesses and threaten the economic vitality of our community and the quality of life for our residents.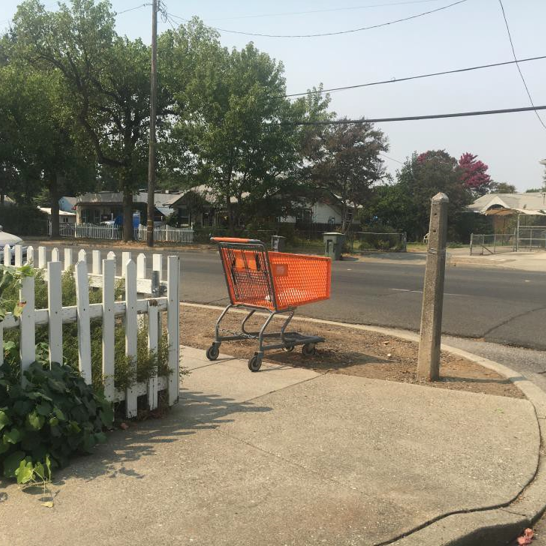 One area of continued blight has been in abandoned shopping carts. Shopping carts removed without authorization often end up abandoned on roadways, along sidewalks and in our creeks. Not only do abandoned carts cause blight, the businesses are impacted through the loss of their asset.

In December 2022, the City's ordinance pertaining to abandoned shopping carts and the unauthorized use of shopping carts became effective. Below are some of the program's highlights:
The unauthorized possession of a shopping cart is a citable offense
Each shopping cart shall be marked for identification
Businesses with more than 5 carts must submit a Shopping Cart Plan to prevent theft
SHOPPING CART PLAN APPLICATION FORM
IMPLEMENTATION TIMELINE




September 7, 2022
Draft Ordinance Released
Outreach to Businesses Initiated


August 26 - October 27 2022
Review & Comment Period


September 26, 2022
Revised Draft Ordinance Released


October 12, 2022
Revised Draft Ordinance Released and FAQs updated


October 21, 2022
City Council Report Available


October 27, 2022
City Council Meeting


November 10, 2022
City Council Meeting


December 11, 2022
Ordinance Effective


December 12, 2022 - February 28, 2023
Submission Period of Shopping Cart Plan


March 28, 2023
Final Date to Implement Approved Shopping Cart Plan
DOCUMENTS




City Council Report 10/27/2022




City Council Report 11/10/2022




Adopted Ordinance




Business Notification Letter #1




Business Notification Letter #2




Implementation Information




Shopping Cart Plan Application Form




Questions/Comments?





If you would like more information or to submit comments, please contact the Planning Division at (916) 727-4740 or planning@citrusheights.net


Sign-up to receive e-mail updates


FAQ's
What is the Shopping Cart Ordinance?
This ordinance provides a tool to assist the City in the removal of blight throughout Citrus Heights and ensure measures are taken by cart owners to prevent the removal of shopping carts from store premises. The ordinance also declares it an infraction for anyone to be in unauthorized possession of a shopping cart.
What businesses must comply with the regulations?
All retail businesses that provide shopping carts are subject to the regulations. However, businesses with more than 5 carts are exempt from filing the Shopping Cart Plan.
What is a Shopping Cart Plan?
All businesses with more than 5 shopping carts must submit and implement an approved plan which provides the measures the business will use to prevent the removal of shopping carts from the premise. Measures may include automatic disabling devices, installation of obstacles to prevent carts from being removed or specific employees tasked to prevent cart removal.
The plan shall also provide the specific measures which will be employed to regularly retrieve shopping carts removed from the owner's premise. Measures may include the employment of personnel or contractor to retrieve carts.
Will the City impound shopping carts found off-property?
Carts found off-property will be impounded. The cart owner will be notified of the impoundment and will have 3 business days to retrieve the cart at no cost.
Do businesses have to pay a fee for recovering impounded shopping carts?
Any cart reclaimed by the cart owner within 3 business days will be not be charged. Any cart not collected within 3 days will be subject to recovery fee. Any cart impounded that is not properly marked or not claimed in 30 days will be disposed of.
Do carts need to be signed/labeled?
All carts at a retail establishment must have a permanently affixed sign that states the following:

Identifies the owner of the cart including the address, store number or phone number
Notifies the public that the unauthorized removal of the cart from the owner's premises or unauthorized possession of the cart is a violation of State laws and City Ordinance.
Do I need to post signs at the business?
The cart owner shall provide signage on their premises in a conspicuous location notifying cart users that removal of carts from the premises or parking area is prohibited without the written consent of the retail establishment.
When does the ordinance take effect?
All businesses with shopping carts must submit their shopping cart plan within 60 days following the adoption of the ordinance, All plans shall be implemented within 30 days following the approval of the submitted plan.
What happens to items left in abandoned carts?
At the discretion of the City, any items left in abandon shopping carts will be disposed of.